EXPLORE THE TOOLKIT THAT IS POWERED BY OUR SERVICES
Your small business blog is a key component of your digital marketing strategy which is why our blog writing services help you keep customers engaged, informed, and always coming back. When you work with Webware, you don't just get an easy-to-use content management system, you get the expertise, strategy, and support you need to better communicate with your audience.
When it comes to your blog and other content, our goal is to give you a consistent voice that is compelling, fits your brand, and resonates with customers. You can trust our team to take your business blog to new heights.
Are you Prepared to Speak With Your Audience?
Blog Accessible From Your Dashboard
All of your small business blog content is accessible right from your website dashboard which gives you an added SEO boost on top of being easy to manage. It can be frustrating having to use multiple systems to manage your content which you will never need to worry about with Webware.
News, Thought Leadership Pieces And More
Your blog is a great way to share news, unique content, thought leadership pieces, and more with your audience. When you have regular updates for your customers, you will always be top of mind which encourages them to come back.
Discover our complete toolkit and see why Webware is the only all-in-one solution you need.
65%
more time is needed to write a blog than in 2014.
78%
of companies have a team of one-to-three content specialists. (SEMrush, 2019).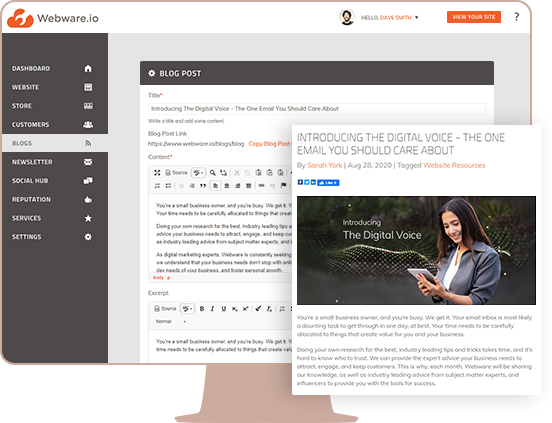 Regularly Created Blog Posts
Our team helps you create regular blog posts, making the process straightforward and easy. You can take one more thing off your plate and rest assured that you are continually sharing valuable information with your followers.
A Unique Voice For Your Audience
When your brand has a unique voice, it helps you stand out from the rest of the noise of the world wide web. There is a lot of content out there and if you want people to choose you then you need to make sure your voice is compelling and unique.