EXPLORE THE TOOLKIT THAT IS POWERED BY OUR SERVICES
Your toolkit includes a small business website builder that is easy-to-use and makes managing your site structure as simple as possible. Your dashboard is specially designed to give you complete control for the best results.
With Webware's website tools and service, you get everything you need to make your site appealing, easy to manage, and captivating enough to engage your customers.

What does your website toolkit include?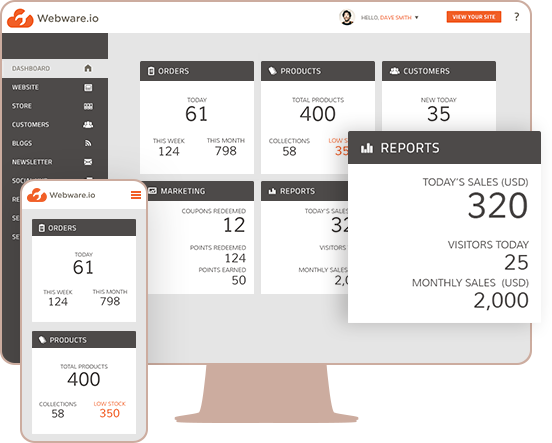 Expert Website Strategy Services
Our team of expert digital marketing strategists help your website deliver exactly the kind of experience that your customers want get complete peace of mind knowing that your website is in the right hands with experts you can trust.
Extensive Page Library
Our website management dashboard includes every kind of page your website needs to succeed. We have made the process of adding new pages as simple as possible so you can do it yourself or trust our team to do it for you.
Discover our complete toolkit and see why Webware is the only all-in-one solution you need.
38%
of people will stop engaging with a website if the layout is unattractive.
94%
of first impressions are design-related.
24/7 Website Support
Our team is available 24/7 to help you maintain your website and make changes on the fly. Whether you want to create a form, add a new page, or address anything else on your site, our team is there to help whenever you need.
Integrated Content Management System
Your website's content management system is fully integrated with the rest of our toolkit systems to help give your customers seamless experience. Having all of your systems in one place makes managing your brand strategy as simple as possible.